As of 2020, Pro Sports Group is now offering our Sports Agent Course to everyone for Free.
---
Pro Sports Group's Sports Agent Course provides the foundation and tools you need to become a Professional Sports Agent in a short time. You may keep your current position or studies while learning this new field. Because our field is challenging, growing, and changing we allow our students and graduates lifetime access to the course information, its updates, new contracts, agreements, and changes. You receive the information to become an agent in the major sports, not just one, college and state regulations are included. Get serious about following your dreams and take the Pro Sports Agent Course.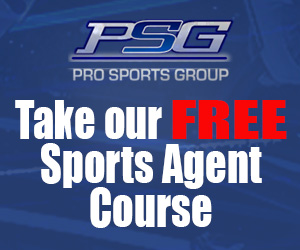 FEATURES AND BENEFITS
* FREE.
* Work on your own schedule.
* Create your foundation for success.
* Learn the sports agent business, its laws, rules, regulations.
* Establish relationships in the sports agent industry.
* Keep up-to-date on the sports agent industry.
* Continuous access to current and historical sports agent news and articles.
* Work in the Industry you have a passion for. Enjoy your work!
* Get help for the experts before you get in trouble.
* Participation in future developments, contacts, and changes as the industry moves forward.
* Access to course updates and additions.
* Become a member of our graduate team and receive help as you grow your business.
SPORTS AGENT COURSE CURRICULUM
* What is a Sports Agent? Sports agent history; free agency; the role of an agent; selecting an agent; contracts; negotiations; more…
* Sports Agent Rules and Regulations Federal regulations; state-by-state regulations; college/university regulations; FIFA, MLB, NBA, NFL, NHL, etc.; more…
* Sports Agent Registration How to become a sports agent; State Licenses information and documents; more…
* Sports Agent Certification How to become a certified sports agent; FIFA, MLB, NBA, NFL, NHL, etc.; information and links to latest information details; more…
* Collective Bargaining Agreements, MLB, NBA, NFL, NHL, FIBA, …. draft system, rookie contracts, etc.; veteran contracts, exceptions, etc.; salaries, salary caps, etc.; option clauses, waivers, etc.; complete governing agreements; more…
* Player-Agent Contracts How to sign clients; FIFA, MLB, NBA, NFL, NHL, etc.; parts of the agreements; commissions, fees, etc.; more…
* Player-Team Contracts How to sign player-team contracts; MLB, NBA, NFL, NHL, etc.; signing bonuses, incentives, etc.; parts of the agreements, agreement clauses; more…
* Sports Agent Insider Tips "Starting Your Own Sports Agency"; "Recruiting Prospective Clients"; "Marketing Your Clients to Professional Teams"; "Negotiating the Best Deal for Your Clients"; "Providing Professional Services for Your Clients"; sports agent educational articles; professional sports drafts and scouting; more.
SPORTS AGENT COURSE FORMAT
Each section begins with an overview segment to introduce a particular section. The points of emphasis segment include the links, information, resources, forms, and/or documents. The final segment of each section includes a section review.
"Pro Sports Group is an awesome company to be a part of. I've talked to other companies who would not share the important information needed to be successful in the Sports Agent business. Whenever I needed any information I would just give Pro Sports Group a call and they were willing to help. Keep up the good work because you are number one in my book." – Kenneth Foster